Recovery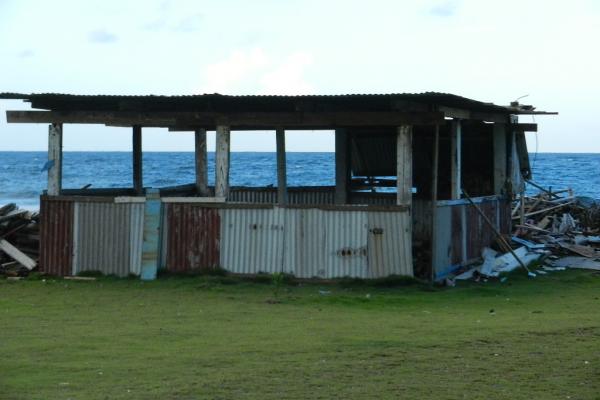 Earthquake, Tsunami & National Emergency Grant Program
In May 2009, when government officials learned the Chicken of the Sea (COS) cannery was scheduled to close permanently, they began exploring ways to help over 2,000 workers transition to new jobs. Options were few. The cannery was the second largest private-sector employer on the island and the third largest employer overall, just behind the American Samoan Government.
Department of Human Resources (DHR) staff, under the direction of Director Evelyn Vaitautolu-Langford, assembled a request to the US Department of Labor for a National Emergency Grant to aid COS workers who, in the wake of the plant closure, would need to transition to new jobs, training, or alternative careers. The request was approved and the Department was gearing up to provide services.
The day before the plant was due to close – on September 29, 2012 – the tsunami struck.
Panic-stricken Chicken of the Sea employees streamed out of the cannery toward the nearest evacuation route. They never returned. The plant was swamped by the ensuing series of waves. Successive walls of water measuring over 55 feet – approximately five stories – slammed key villages including Amanave, Leone, Pago Pago, and Paloa.
Dozens of coastal homes, seacrafts, businesses, parks, and developments were lost, including much of Pago Plaza, home to many federal agencies and professional service firms, as well as a favorite concession stand irreverently called Don't Drink the Water (DDW).
The remaining cannery (StarKist) and major coastal landmarks sustained significant damage still visible three years later.
The human toll was just as great. Thirty-four deaths, hundreds injured, and hours spent searching for lost loved ones. The tragedy remains close to the surface for many survivors, as our team – story gatherers and researchers alike – found in talking with residents about their experiences. Many recalled in vivid terms running to the shore to help neighbors and friends. Others relayed stories of frantic searches for children and loved ones or calls from the US mainland asking for help checking on parents and grandparents.
The combination of the global recession that took hold in 2008, the closure of the COS Samoa, and the disastrous September 29th earthquake and tsunami resulted in the loss of one of every five jobs in American Samoa in one year.[1]
American Samoa needed help – emergency medical care, shelter, food, and, crucially, a path to progress. This response and subsequent transition is exactly what the National Emergency Disaster Grant program was designed to support. Initially, USDOL released $8,285,870 to create temporary jobs for eligible dislocated workers to assist in the territory's cleanup and recovery efforts.
Phase I: Temporary Employment
The first phase of the NEG disaster grant program focuses on recovery, providing support for temporary employment. Jobless individuals – many of whom also suffered personal loss or property damage – were connected with paid work repairing and rebuilding damaged infrastructure, thereby providing structure and income for them and accelerating the path sustained economic recovery in their communities.
During this phase, the NEG program focused primarily on continuing the FEMA-sponsored recovery, and humanitarian assistance and disaster mitigation efforts needed to restore villages, property and infrastructure damaged by the tsunami. NEG projects were launched in sixty-five worksites, which included thirty-three government and non-profit agencies[1] and thirty-two village units throughout the island. 
These projects employed some 2,361 temporary workers between November 1, 2009 and April 24, 2010. Most of these individuals worked to clear debris from the shorelines, streams, river banks, beaches, family and communal lands and roadsides, help families with cleanup and restoration of their homes, and restore and plant vegetation to abate erosion caused by the tsunami and flooding. 
To hear about American Samoans experiences that day - in their own words - view the videos collected by our story gatherers.
Below is a map of the village worksites:
Click Here for an enlarged version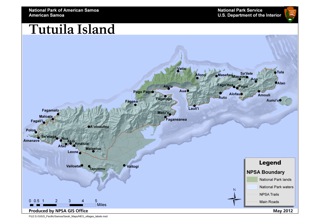 Employers
What follows is a list of organizations that employed phase I NEG participants.
Click on the bar to reveal the number of participants and a brief description of the work they did.
To learn about phase II, click Renewal.
Where NEG Participants Worked (Phase I)
Government Departments
Quasi- Public Agencies and Non-Profit Organizations
Other Organizations
---
[1] The NEG Program requires that Phase I workers be employed by public agencies and or non-profit organizations.
---
[1] Source: American Samoa and Commonwealth of the Northern Mariana Islands: Employment, Earnings, and Status of Key Industries Since Minimum Wage Increases Began. US Government Accountability Office (GAO), June 2011